Yueh-Mei Kim Nutter
Partner
Marital and Family Law
Boca Raton | Fort Lauderdale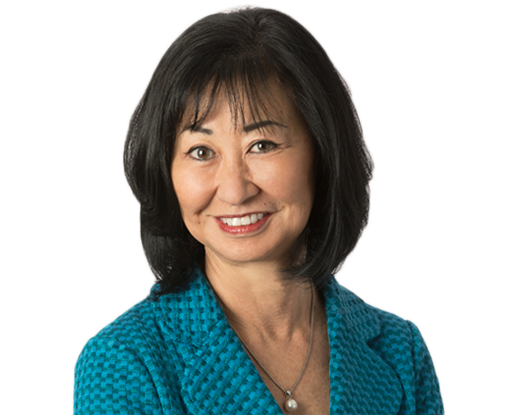 Ms. Nutter is a Fellow of the American Academy of Matrimonial Lawyers™ and a Florida Bar board certified specialist in Marital and Family Law, concentrating her practice in the areas of family law, and probate and estate litigation. She is also recognized by the Florida Supreme Court as a certified Family Mediator, certified Appellate Mediator, and certified Guardian Ad Litem.
For more than 20 years, Ms. Nutter has served as a Guardian Ad Litem in family law for the Seventeenth Judicial Circuit for Broward County and in the Family Law, Criminal and Dependency Courts for the Fifteenth Judicial Circuit for Palm Beach County, advocating on behalf of abused and neglected children. She also previously served as Chair of the Attorney Ad Litem & Guardian Ad Litem Ad Hoc Committee for the Family Law Section of The Florida Bar and helped create a new program designed to train people seeking to be appointed as a Guardian Ad Litem in family law court proceedings. She now owns and operates that program, through Speaking for Kids, Inc.
Additionally, Ms. Nutter is a founding member of the Collaborative Family Lawyers of South Florida, Inc., a charter member and officer of the South Palm Beach County Collaborative Law Group, a Master Member of the Susan Greenberg Family Law American Inn of Court of the Palm Beaches, and also serves on the Florida Chapter of the Association of Family and Conciliation Courts (FLAFCC).
Based on nominations by her peers and clients, Ms. Nutter is often recognized in various publications for her work in the legal field. She has been listed among U.S. News & World Report's Best Lawyers in America© since 2011, has been named a "Florida Super Lawyer" by Super Lawyers magazine since 2008, and maintains an AV Preeminent® rating by Martindale-Hubbell. She has also been listed among the Lawdragon 500 Leading Family Lawyers for 2020. She and her practice team have also helped Brinkley Morgan achieve recognition as a Tier 1 "Best Law Firm" in the area of Family Law for 2014-2021 by U.S. News & World Report.
Additionally, Ms. Nutter leads two annual, complimentary family law seminars for mental health professionals and accounting professionals in the South Florida community. Hosted by Brinkley Morgan, the seminars provide continuing education credits and cover topics that affect clients during family disputes such as divorce, paternity, dependency, and more.
Read More
Read Less
500 Leading U.S. Family Lawyers Guide, 2024 Lawdragon
Top Lawyers, The Boca Raton Observer, 2023
AV Preeminent® rated by Martindale-Hubbell
Lifetime Achievement Award, Daily Business Review's Florida Legal Awards, 2021
Florida Super Lawyers, Super Lawyers Magazine, 2008-2023
The Best Lawyers in America, U.S. News & World Report, 2011-2022, 2024
"Top Lawyers," South Florida Legal Guide, 2022
FLAFCC President's Award, Florida Association of Family and Conciliation Courts, 2021
Lawdragon 500 Leading Family Lawyers, 2020
"Boca Raton's Expert Lawyers," Boca Raton Observer Magazine, 2016
"Top 20 Women in Law," Daily Business Review, 2015
Community Impact Award, Faulk Center for Counseling, 2015
EPIC Award, Mental Health Association of Southeast Florida, 2014
Legal Elite, Florida Trend Magazine, 2012-2013
Key Partner Award, South Florida Business Journal, 2012
Chair Award of Outstanding Merit, The Florida Bar, 2009-2010
Florida Supreme Court, Family Law Forms Workgroup, 2014-Present
The Florida Bar, Family Law Section
American Academy of Matrimonial Lawyers (AAML), Fellow
AAML Florida Chapter, Charitable Giving Committee
The Susan Greenberg Family Law American Inn of Court of the Palm Beaches, Master Member
South Palm Beach County Bar Association
Palm Beach County Bar Association
Unified Family Law Section
Alternative Dispute Resolution Committee
Broward County Bar Association, Family Law Section
South Palm Beach County Collaborative Law Group, Charter Member and Officer
Florida Chapter of the Association of Family and Conciliation Courts (FLAFCC), Board of Directors
FLAFCC Annual Conference, Co-Chair, 2020 & 2021
Florida Academy of Collaborative Professionals (FACP)
FACP Annual Conference, Content Committee, 2020 & 2021
FACP Annual Conference, Co-Chair, 2018 & 2019
International Academy of Collaborative Professionals, Orlando Conference Liaison, 2022
Speaking for Kids, Inc., Owner
"Effect of Florida's New Alimony Law on Existing Permanent Alimony Awards"
Brinkley Morgan Legal Talk Blog, July 26, 2023
"Greyson's Law Signed into Florida Law to Overcome Presumptions to Safeguard Children at Risk of Parental Harm"
Brinkley Morgan Legal Talk Blog, July 17, 2023
"Technology and Divorce: Do's and Don'ts When Uncoupling – Part II," WomansDivorce.com, Jan. 4, 2021
"Technology Do's and Don'ts When Uncoupling – Part I," WomansDivorce.com, Jan. 4, 2021
Co-Presenter, "Parenting X3: Parenting Plans with In Loco Parentis and Defacto Parents," AAML Florida Chapter Webinar, Oct. 24, 2019
Presenter & Event Organizer, Speaking for Kids, Inc.'s Family Law Guardian Ad Litem 2-Day Training sponsored by Broward County Bar Association, Aug. 23-24, 2019
Presenter, "GAL, AAL, SI & PC: Who They Are, What They Do and How Becoming One Can Expand Your Practice," National Association of Divorce Professionals (NADP) Conference, March 8, 2019
Presenter, "Best Practices for Use of Guardians ad Litem and Attorneys ad Litem," Florida Bar CLE Webinar, Dec. 13, 2018
Co-Presenter, "ADR: Collaborative Law Process, Implicit Bias, Benefits of E-Mediation and More," Federal Bar Association CLE Webinar, Sept. 26, 2018
Author, "Yes, the Mediator is Biased," Palm Beach County Bar Association's Bar Bulletin, July 2018
Presenter, "Evolving Trends in ADR: Cooperation, the Key to Agreement," Palm Beach County Bar Association's Alternate Dispute Resolution Committee, Feb. 12, 2018
Presenter & Event Organizer, Speaking for Kids, Inc.'s Family Law Guardian Ad Litem 2-Day Training sponsored by Broward County Bar Association, Nov. 17 – 18, 2017
Workshop Leader, Florida Bar 2017 Trial Advocacy Workshop, July 21 – 23, 2017
Co-Author, "Top Ten Tips for Relating to Elders and Families in Conflict during Their 'Gray' Years," Florida Chapter Association of Family and Conciliation Courts, July 13, 2017
Author, "Legal News & Review (LNR)" Radio Interview, June 19, 2017
Presenter, "Bitcoins and Virtual Currency in Family Law Cases," American Academy of Matrimonial Lawyers (AAML) Florida Chapter's 39th Annual Institute, May 5, 2017
Presenter, "Use of GAL and Experts in Modification," Palm Beach County Bar Association's "Modification of Parenting Plans: Seven Practical Tips" Family Law Seminar, April 28, 2017
Author, "Alimony – Will This Be the Year it is Overhauled?" Brinkley Morgan Legal Talk Blog, Jan. 25, 2017
Co-Author, "Bitcoin Basics for the Family Law Practitioner," The Florida Bar Family Law Section Commentator, Fall 2016
Author, "Homestead Protection… Are You Sure?" Brinkley Morgan Legal Talk Blog, Nov. 29, 2016
Presenter, "Guardian Ad Litem vs. Social Investigation," Broward County Bar Association's Nuts & Bolts of Family Law Seminar, Nov. 18, 2016
Presenter & Event Organizer, Speaking for Kids, Inc.'s Family Law Guardian Ad Litem 2-Day Training sponsored by Broward County Bar Association, Oct. 21 & 22, 2016
Presenter, "Challenges of Mediating Outside the Box but Inside the Ethics Rules," Palm Beach County Bar Association's ADR in 2016 – Challenging Old Paradigms Seminar, Feb. 8, 2016
Presenter & Event Organizer, "Interviewing Children: Their Perceptions and Expectations; GAL Testimony and Hearsay Dilemma; Practical Issues from Getting Started to Getting Discharged and Goodbyes," Speaking for Kids, Inc.'s Family Law Guardian Ad Litem 2-Day Training sponsored by Broward County Bar Association, Nov. 20-21, 2015
Presenter, "Trials and Tribulations of being a Guardian Ad Litem," The Florida Chapter of the Association of Family and Conciliation Courts' (FLAFCC) 12th Annual Conference, Oct. 1-2, 2015
Workshop Leader, The Florida Bar Family Law Section's 2015 Trial Advocacy Workshop, Aug. 6-9, 2015
Presenter, "Do You Have a Duty to Warn?" Brinkley Morgan's Family Law Seminar for Mental Health Professionals, Jan. 16, 2015
Presenter, "Life After Divorce: Planning for a New Beginning," Morgan Stanley Divorce Planning Seminar, Dec. 11, 2014
Presenter, "Neutral Accountants in Collaborative Law," Brinkley Morgan's Family Law Seminar for Accounting Professionals, May 9, 2014
Presenter, "The Trials and Tribulations of a Guardian Ad Litem," Broward County Bar Association's Raising the Bar Seminar, April 11, 2014
Presenter, "Defending and Pursuing Termination of Parental Rights," Brinkley Morgan's Divorce Law Seminar for Mental Health Professionals, Jan. 17, 2014
Author, "Electronic Dos and Don'ts – Part III," Brinkley Morgan Legal Talk Blog, Jan. 9, 2014
Author, "Electronic Dos and Don'ts – Part II," Brinkley Morgan Legal Talk Blog, Dec. 27, 2013
Author, "Electronic Dos and Don'ts – Part I," Brinkley Morgan Legal Talk Blog, Dec. 18, 2013
Presenter, "What You Should Know Before a Guardian ad Litem is Appointed," Broward County Bar Association's Bench & Bar Convention, Nov. 2013
Presenter & Program Chair, "Guardian Ad Litem Pilot Training Program," The Florida Bar Family Law CLE, Oct. 25, 2013
Presenter, "What You Should Know Before a Guardian Ad Litem is Appointed," Broward County Bar Association Bench & Bar Conference, Oct. 18, 2013
Presenter, "Alimony – Imputation, Durational and What's Next?" Brinkley Morgan's Divorce Law Seminar for Accountants, May 10, 2013
Presenter, "Guardian Ad Litem," Broward County Bar Association Raising The Bar Seminar, April 26, 2013
Presenter, "Interactive Discussions of Ethics, Diversity and Domestic Violence Issues in Mediation," Palm Beach County Bar Association, Feb. 11, 2013
Presenter, "Parenting Plan Evaluations, Social Investigations and Psychological Evaluations – Are They Different?" Brinkley Morgan's Divorce Law Seminar for Mental Health Professionals, Dec. 6, 2012
Presenter, "Modifications in Today's "New World": Pleading/ Proving/ Defending," American Academy of Matrimonial Lawyers, Oct. 25, 2012
Presenter, "Guardians and Attorneys Ad Litem: Voicing A Child's Best Interest and/or Stated Interest," The Florida Bar Family Law Continuing Legal Education, July 25, 2012
Author, "Divorce Law in Florida: Will Permanent Alimony Continue to be Permanent?" Brinkley Morgan Legal Talk Blog, June 20, 2012
Presenter, "Hot Topics in Divorce – Alimony Changes," Brinkley Morgan's Divorce Law Seminar for Accountants, June 8, 2012
Presenter, "Alternatives to the Courtroom," Brinkley Morgan's Divorce Law Seminar for Mental Health Professionals, Dec. 2, 2011
Author, "National Adoption Day Raises Awareness for Foster Children," Brinkley Morgan Legal Talk Blog, Nov. 15, 2011
Author, "Collaborative Law for Divorce: An Alternative to Litigation," Brinkley Morgan Legal Talk Blog, Nov. 8, 2011
Fellow of the American Academy of Matrimonial Lawyers™
Florida Board Certified Specialist in Marital and Family Law (2005-Present)
Florida Supreme Court Certified Family Mediator
Florida Supreme Court Certified Appellate Mediator
Florida Supreme Court Certified Guardian Ad Litem
Collaborative Lawyer
Florida (1987)
U.S. Court of Appeals for the Eleventh Circuit
U.S. District Court, Middle District of Florida
U.S. District Court, Southern District of Florida
Florida Atlantic University, 1984
Nova Southeastern University Shepard Broad College of Law, Juris Doctor, 1987